Yesterday in How To Celebrate Hanukkah, Pt. 1, we talked about what Hanukkah is. Today we'll talk about the importance of the Menorah.
What Is a Hanukkah Menorah?
It's a special 9 Branched Menorah- Called a Hanukkiah. Wide assortments of hanukkiahs, as well as candles, are available for purchase in many shops and on any Judaica website, or they are very simple to create at home. In all styles, the ninth candle, the shammash or servant candle, should be higher than the others or set slightly apart, to the front, middle or side.
When to Light?
The candles are usually lit at nightfall but, if it is necessary to wait for family members to gather, any time during the night is fine. The main consideration is to have as many of one.s family, as well as friends, together as possible to enjoy the experience on any given night. Ideally, the candles should burn for 30 minutes; during which time no work should be done – and the TV should be switched off! The blessings are said, songs can be sung, gifts given, food enjoyed and games played. It's time to remember and celebrate the miracles of our God and to appreciate the miracle of one another.
Where to Light?
A major lesson of Hanukkah is one that Yeshua illustrated well in his teaching: You are the light of the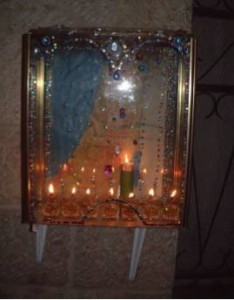 world. A city set on a hill cannot be hid. Nor do men light a lamp and put it under a bushel, but on a stand, and it gives light to all in the house. Let your light so shine before men, that they may see your good works and give glory to your Father who is in heaven. (Matthew 5:14-16)    In Israel, many people light candles outside in special glass boxes built for a hanukkiah. The beautiful one pictured here, in the Old City of Jerusalem, highlights the restored, biblical cities and towns on a map of Israel as "jewels" in the Land.  Jerusalem is a diamond, to the left of the flame of the shammash, Hebron is a square ruby south-west of Jerusalem, Tiberias is a sapphire on the left shore of the Sea of Galilee in the north. More often it is lit in a window, and facing a public street if possible. If for some reason the hanukkiah cannot be lit by a window, it may be lit inside the house on a table, where its light shines forth upon the members of the household.