Thank you for joining the Eshav Books Mailing List. To show our appreciation, please accept this gift of Liturgical Melodies.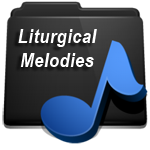 These recordings are designed to help you learn the service. The melodies are numbered based on the order in which they appear in the Siddur. Shacharit 1 and Shacharit 2 are recordings of the complete service so you can experience the service from beginning to end.
To Download: PC: right click and select "Save target/link as". Mac: Control-click and download.