This is a re-post from Simon Wiesenthal Center

Update From Rabbi Abraham Cooper, Associate Dean and Founding Director of the SWC"s Digital Terrorism and Hate Project
October 23, 2015
The current wave of barbaric knifings, shootings and car rammings by Palestinians against Israelis is based on the "Big Lie" of a non-existent Israeli campaign against a Muslim holy site on The Temple Mount.

This deadly campaign is sustained and promoted largely through social media. This week, accompanied by SWC Senior researcher Rick Eaton, I met for two hours with four officials of Facebook at their Silicon Valley headquarters to review in detail the steps being taken by the social networking giant to remove and block terrorist instruction manuals and other materials inciting violence, mayhem and hate against the Jewish people. While far from perfect, Facebook has deleted thousands of postings that our Digital Terrorism and Hate Project has submitted and is also independently reviewing postings related to this horrific crisis. YouTube responds quickly to our complaints regarding videos promoting terrorism and usually removes them.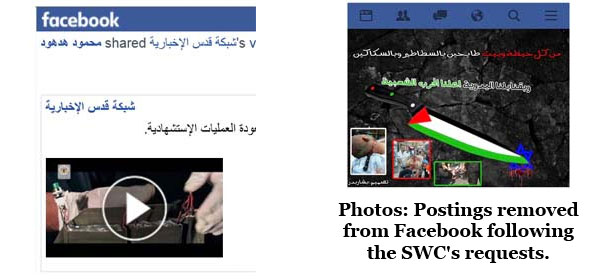 In the coming weeks, we will meet with Twitter officials where the situation is dramatically worse. While Twitter removes some of the postings we send, the pro-terrorist propagandists are often back online within hours. Despite our repeated pleas, Twitter has failed to adopt and follow transparent as well as little or no evidence of a proactive approach to stop its service from continuing to serve as the main weapon of choice of terrorists and their supporters worldwide.
We will keep you updated on these and other developments in the weeks to come.
Sincerely,
Rabbi Abraham Cooper
Simon Wiesenthal Center